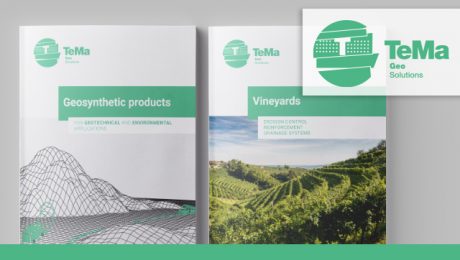 TeMa Geo Solutions has presented two important publications summarising the products and technologies used in the field of major environmental works, which have enabled the Vittorio Veneto-based company to convince designers on all continents.
In addition to novelties, in the new catalogue we present solutions for intervention works in the environmental field that respect a new awareness towards protecting our natural heritage, which includes much hilly terrain and cultivated slopes. In recent years, these have been increasingly affected by climate changes that, in turn, have intensified some weather conditions.
We have included TeMa products for the major environmental works sector in the new Geosynthetic Products catalogue by TeMa Geo Solutions. In 48 pages, we present 29 products separated according to categories: drainage geocomposites, studded membranes, geonets, geogrids, geomats, biomats and geocomposites. They are all the result of research into new materials aimed at solving critical issues related to drainage, erosion control, filtration, separation, reinforcement, waterproofing and protection using dozens of applications (geotechnical and environmental) that the soil requires in certain hydrogeological and morphological situations.
Vineyards Catalogue
The same effective solutions with low environmental impact are offered in the Vineyards catalogue, specifically dedicated to safeguarding the vineyard heritage. It is, indeed, a centuries-old culture that has been a typical part of our lives for generations. We have only to consider the steps built by hand by farmers in the past. In the catalogue, we present various sustainable solutions, specifically for setting up vineyards and for their maintenance. The technological content of TeMa solutions goes hand-in-hand with its spirit of eco-compatibility, which has led to considerable savings, over the years, in terms of raw materials and CO₂ emissions into the air. TeMa has eliminated the use of millions of cubic metres of cement and inert materials with its "reinforced earth" technique, thus avoiding spreading thousands of tonnes of carbon dioxide and particulates that heavy vehicles would emit into the atmosphere in order to transport them.
The environmental choice of TeMa Geo
All this is accompanied by researching equally eco-compatible products that can be used in a natural context without spoiling it or changing its appearance. These are often 100% natural solutions which, despite being degradable over time, achieve their objective of settling the soil in a more than natural way.
Relying on TeMa Geo means making an environmental choice: you will discover that we have built four post-consumer plastic recycling plants to obtain, according to our own specifications, quality recycled raw materials to be used in specific percentages in our products.
To download the new catalogues and get an idea of our work philosophy, go to our Geosynthetics Catalogue and go to our Vineyards catalogue.