Wednesday, 01 December 2021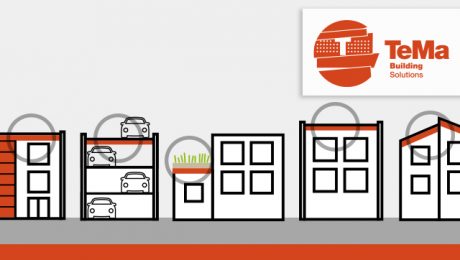 "A hole in the roof is enough to ruin a home."
So the (Italian) saying goes. Of course, there may not be any holes in the roof in the strict sense of the word, but, unfortunately, in a broad sense there might be. Roofs are subject to problems such as water seepage, damp and, in the case of trafficable flat roofs or car park roofs, heavy loads.
The roof is the part of a building directly exposed to weather conditions, such as rain, snow and hail, but also to heavy loads. It's the least visible part of the house and the most difficult to inspect. When building a roof, it's therefore essential to consider factors that might affect its integrity and safety, as well as harm the health of occupants.
Water seepage leads to damp and peeling walls. Dampness means mould and unhealthy attic environments.
So, let's take a look at the main problems and see what solutions can be found.
Water seepage
Ponding on a roof will wet and ruin the materials used. It's therefore necessary to install a drainage system for rainwater or, in the case of trafficable flat roofs, for accidental leaks of oil or fuel from vehicles. This applies to green roofs, trafficable flat roofs and ballasted flat roofs.
Solutions need to be found that don't increase the "load" on the roof.
Solutions
TeMa Building Solutions recommends installing its drainage geocomposite , T-Mix Drain Plus and TMD 1011, ideal for trafficable flat roofs and flat green roofs; its T-Kone G Drain studded membrane, suitable for ballasted flat roofs and flat green roofs; or T-Net Drain geonet for trafficable flat roofs.
Vapour control
It's also necessary to focus on vapour control. Due to temperature differences between the air and the roof material, there's a risk of condensation forming. To prevent this, highly waterproof vapour diffusion membranes need to be laid.
Solutions
The membranes in the T-Vapo range act as a barrier, retarder and vapour diffuser for pitched roofs.
Mechanical protection of waterproofing
The first step is to ensure that the waterproofing layer is intact and remains that way. Any cracks, cuts or inaccurate application in corners can cause irreparable damage to the underlying surface, requiring major intervention and considerable costs. By the time damp patches appear, the damage is often already severe.
Moreover, in the case of roofs used as parking areas or flat green roofs, the heavy weight that the materials need to withstand must be considered.
Solutions
TeMa Building Solutions proposes its T-Kone G Drain studded membrane and the Tematex range of geotextiles for flat green roofs.
Research conducted in the building market has found that most construction disputes are due to damage caused by water and damp seeping into retaining structures.
Protecting foundations
In order to avoid inconveniences of this magnitude that are discovered in the course of time, designers and installers undertake to protect foundations. TeMa has therefore developed products and systems that protect waterproofing during backfilling operations, thus guaranteeing the stability of intervention work over time. For practical purposes, we propose two types of fairly common intervention works in civil engineering by showing you how two of our studded membranes work.
Retaining walls
Retaining walls are intervention works that have the main purpose of retaining slopes or soil embankments during works such as the construction of roads below ground level. Various types of wall can be built: in masonry or reinforced concrete, or using precast concrete elements.
Whichever solution is used, you always need to consider and comply with specific hydrogeological features: TeMa laboratories offer a range of membranes that meet such requirements, whereas technicians and installers can assist in choosing the best solution to use.
Mechanical protection of waterproofing
For the mechanical protection of waterproofing you can choose T-Kone, which also performs a damp-proofing and drainage function. Damp proofing creates a physical barrier between the structure and damp soil and avoids any possible damage to the waterproofing membrane, both during onsite operations and soil settlement.
The T-Kone family is part of a range of bare HDPE studded membranes (such as T-Kone S). Alternatively, these membranes can be bonded with a geotextile such as T-Kone G Drain or with a geotextile and a damp-proofing element such as T-Kone G Drain Plus.
Diaphragms and berlin walls
Suppose we need to work in an urban context doing underground intervention work. First of all, we must guarantee the stability of the structures surrounding the area to be excavated.
Diaphragms and berlin walls are used in situations where it is impossible to create excavation walls with an appropriate slope to prevent landslides or structural subsidence. In the form of steel/ reinforced concrete piles or walls, they are driven deep into the ground and coupled with TeMa membranes, which provide damp-proofing, mechanical protection or drainage functions.
Damp-proofing, mechanical protection or drainage functions
For this purpose, products such as Q-Drain can be used, which have a polypropylene monofilament drainage core bonded with one or two non-woven geotextiles, also made of polypropylene. These filter water and adapt to the conformation of the ground, thus guaranteeing stability.
These are just some of the membranes we are able to supply. Find out which one is best for you and assess the best solution with our team of experts. TeMa will assist you throughout each phase of the design process.
To discover TeMa products, visit the website.