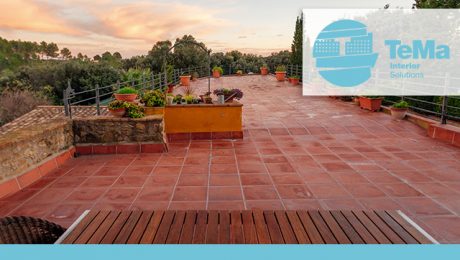 Autumn precipitation, winter frosts and scorching summer heat may even be followed by a downpour lasting a few minutes. Terraces and balconies, or outdoor flooring in general, are affected by seasonal and sometimes daily weather events and temperature fluctuations that put the resistance of flooring at risk.
So how can we protect them?
Drainage geocomposites are the solution, but let's take a closer look at them and their functions.
What are drainage geocomposites and when should they be used?
They are geosynthetic materials with a drainage core bonded to a non-woven filtering fabric. They can be used on walls, underground structures, flat roofs, trafficable roofs, flat green roofs, as well as terraces, balconies and outdoor flooring.
TeMa Interior Solutions suggestsT-K NW and T-K Net, polyethylene studded membranes bonded to a non-woven fabric that acts as a filtering layer for T-K NW or a HDPE mesh for T-K Net.
What are the functions?
The functions of geosynthetic products are set out in the UNI EN ISO 10318 standard.
Drainage
As the name implies, the main function of geosynthetic products is to drain any water that may seep into the screed. Passive capillary drainage eliminates the risk of stagnant water in the system and, if there are rooms below, prevents moisture from damaging the insulating layer.
Protecting the waterproofing layer
Damage to the waterproofing layer causes significant and immediately visible problems. Moisture and water penetrating into deeper layers, compromise the durability and strength of the structure, causing cracks in tiles. Protection is therefore necessary.
Distributing the load
Flooring often has to withstand heavy loads, such as outdoor tables, sunshades, large plant pots etc…. Using studded membranes, which are highly resistant to loads, allows the screed to remain "suspended" from the sealing layer (i.e. the waterproofing layer) below, protecting it from perforations and abrasions.
Advantages of applying the system
The time required is extremely short and flooring can be laid after a few days.
The thickness of the membranes is much reduced, an advantage not to be underestimated in renovations. Moreover, the thresholds of French windows opening outwards or onto a terrace do not need to be raised.
Lastly, in consideration of the environment, the materials are safe and odourless. They do not develop toxic gases or organic components, and comply with VOC standards. No hazardous substances are released underground.
Don't smile at the obvious: a swimming pool is one of the most humid environments you can find, especially the changing rooms, where there are shower rooms and often inadequate aeration.
Vapour, water drops on the walls and permanently wet floors are the problems we find, but the unknown arises when humidity also penetrates the walls. And that's when invisible damage starts to affect the structure.
Clearly, the most obvious consequence of humidity is the appearance of stains and moulds which, as we all know, are not healthy for people or for the structure, but fortunately they are a clear sign that something is wrong.
When swimming pools are open to the public, and therefore very busy, all designers know that it's important to prevent any signs of deterioration in the toilet and shower area. Basically, this is the area where user's sensitivities are aroused, and so it's important to look for the most suitable materials and finishes, using hardwearing elements capable of resisting over time. In addition, the products used must be completely waterproof and resistant to humid environments.
If not properly considered right from the design stage, there's a real risk of encountering problems with damp, tiles coming off and walls that flake off very quickly.
Moreover, the problem is worsened by the temperature difference between inside and outside during the coldest periods.
The solution from TeMa Interior Solutions
We are specialised in damp-proofing and waterproofing at large construction sites, and now also in interior solutions. We have therefore developed the right product to be vapour- and water-resistant. For example, Water Panel, the XPS (extruded expanded polystyrene) panel bonded with waterproof facers on both sides, to which cement-based glue can be directly applied for laying tiles or other claddings that design now has to offer.
The advantage of this product is that it's ready to use, i.e. quick and easy to assemble while ensuring maximum performance and customisation. Being lightweight is a huge advantage on-site, as well as the fact that it can be cut without creating dust. In addition, it's ideal for a variety of applications, as it's available in a wide range of thicknesses from 6 mm to 50 mm.
Available accessories include:
an adhesive for fixing;
T-Corner I/E for waterproofing corners;
T-Bandel for joining panels;
T-Fix for applying to gaps between panels;
T-Wall Collar for waterproofing the outlet areas of installations.