Reinforced soil walls have proved highly popular in recent years and are produced wherever possible, taking the place of concrete-faced soil retaining wall systems.
Employed in a range of different environments, they bring significant advantages, both financial and environmental. Indeed, unlike concrete-faced soil retaining wall systems, they:
are sustainable because they give a vegetated finish;
are a great space-saving solution, with slopes as steep as 80° (compared to the 30-40° of natural soil embankments);
result in less pollution given the smaller number of trucks required to carry construction materials;
make use of the excavated earth for backfilling, provided it is compatible with stability standards, meaning no more material needs to be brought in;
blend seamlessly with their surroundings once the slopes are grassed over, without becoming a blot on the landscape of our villages.
Whatever the case, before planning the work, there are a number of aspects and data to be taken into consideration.
Preliminary data needed
To start with, all essential technical information must be procured in order to be able to assess the feasibility of the project, such as:
geological testing of the area on which the wall is planned to be built
topographical surveys
meaningful cross-sectional drawings showing the current condition
geometry of the planned wall (face angle, height, division into tiers, slope on top)
external loads applied to the structure (top loads in the event it needs to accommodate a car park or a road)
what earthquake risk zone the area is in
geotechnical properties (angle of shearing resistance, cohesion and density) of the earth behind the future wall, of the foundation soil, and of the backfill
whether there are perched aquifers or seepage of a different nature.
At this point, the next step is to check design calculations using specific software.
Checking design calculations
Checking is performed to assess both internal and external stability. The following tests are carried out in the former case:
reinforcement strength test, which assesses possible failure mechanisms and determines the spacing, length and tensile strength of the geosynthetics due to be laid
pull-out test to check that the reinforcement applied does not break or slide out
direct sliding test, to ensure there is no translational movement across the installation planes
wrap-around test, to ensure that the length wrapped around the top of each individual layer is stable.
The checks to be carried out during the project's execution to assess external stability consist in sliding, overturning, bearing capacity and global failure analysis.
Do you want to chat with one of our experts to find the solution that best suits your requirements?
We have 30 years of experience in the industry and can give you access to materials and solutions offering specific performance. Contact us!
Do you want to learn more about the full TeMa Geo Solutions product range for reinforced earth structures? Click here.
Wednesday, 18 January 2023
For the extension works at the Serravalle Retail Park shopping centre in the Piedmont region, we helped the company choose the solutions to implement and assisted with verifications.
The area covering about 2,000 sqm required some intervention work regarding reinforced earth structures and drainage. In particular, we undertook the preliminary work for extension works dating back to 2016.
To the south-west of the building, the soil was secured and then surfaces were replanted with greenery.
Let's see how this was done in more detail.
Type of intervention
In order to make the slope in front of the complex secure, the intervention work involved constructing reinforced earth structures in several banks, more specifically 3 modules of 6 m in height each.
In addition, to manage the water coming from the hydro-geographic basin situated upstream of the area, specific surface drainage works were carried out.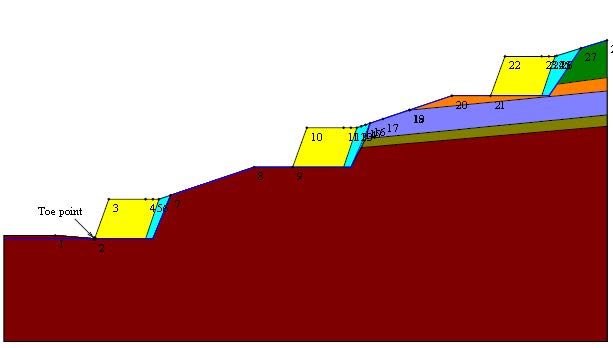 The solution from TeMa Geo Solutions
For the reinforced earth structure, 3 modules were constructed with anchorage lengths of 7 m and a strength of 110 kN/m provided by X-Grid PET PC 110 geogrids.
As for drainage, instead, a Membrana Nera Geo was used, the 8 mm HDPE studded membrane bonded to a filter nonwoven geotextile with a PE slotted tube at the base.
The drainage system was also installed at the horizontal contact points of each berm to prevent future water seepage into the reinforced earth structure.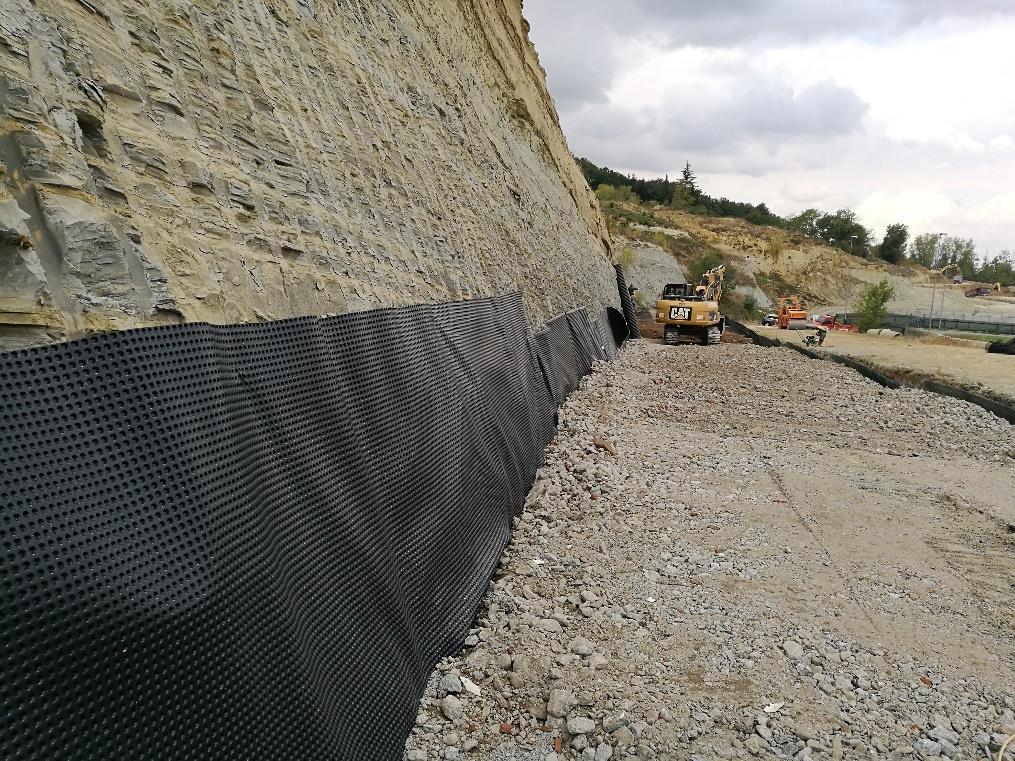 Our passion for work does not stop, it simply continues at our company, in a little more limited way. You certainly cannot see us running up and down building sites or going in and out of our research labs, but we can assure you that we are still working on our production of geosynthetic products with the same commitment and perseverance in order to formulate new projects and develop ideas that we will see materialised soon, once everything has ended.
TeMa and Geosynthetic Products
TeMa Geo is the TeMa division created almost thirty years ago with the aim of exploring and expanding the world of geosynthetics, which it still does today. By "geosynthetic products" we generally mean all categories of synthetic coverings that are not only used in contact with earth or other building materials but are also appreciated for their use in various building fields. In the building industry, their main advantage is that they are user-friendly in technical terms, which is why engineers and planners prefer them to other technical solutions.
The Advantages of Geosynthetics
The advantages of geosynthetic options not only lies in the fact that they are easy to use but also in their cost-effectiveness: certainly less expensive, they provide excellent performance that remains unchanged over time. Furthermore, their versatile use makes them the ideal solution to various on-site problems.
Geosynthetic Products "In the Field": the Serravalle Project
In more practical terms, today we want to tell you about the intervention works we carried out in the Piedmont region in 2016. It involved extension works for Serravalle Retail Park. In preparation for the works, we had to make the slope in front of the new complex safe. In order to proceed, we had to prepare several reinforced soil structures, separating them into banks, and solve the problems of surface drainage for the management of water, whose catchment area was located above the area.
For works of such magnitude, we used geogrids from the XGrid PET-PVC range as a structural element. In addition, to avoid any seepage in the future, drainage elements were installed close to the reinforced structures of the horizontal sections of each berm. This is just one of our products and one of the many fields of application explored by TeMa.
To discover all our membranes, visit our section dedicated to products.