The safety of road infrastructures is the main goal, and maintenance work – whether preventive or supplementary – is systematic.
Road surfaces withstand heavy traffic loads and atmospheric changes with significant variations in temperature. Constant maintenance is therefore required in order to ensure even surfaces and the stability of structural elements.
Let's look at the main factors involved in building new roads or maintaining roads.
Controlling surface erosion
Erosion is largely due to freeze/thaw cycles, which make asphalt less elastic and therefore more prone to internal voids. Such voids allow water to penetrate into underlying layers, gradually eroding the structure.
In addition, heavy traffic loads, especially heavy vehicles, cause deformation of the surface layers: this results in water penetration, which "softens" the structure and makes it less resistant.
Anti-capillary drainage
The water capillarity, i.e. the ability of liquids to move in micro-spaces even against the force of gravity, is a rather complex concept closely monitored in the construction industry. With the help of pressures exerted on lower layers, water rises upwards, dragging the finer components of materials with it and causing deformation.
It is therefore necessary to provide a drainage geocomposite, a three-dimensional membrane obtained by bonding two or more synthetic components in order to convey fluids to the exterior and prevent them from rising.
You can discover all our solutions here.
Reinforcement
It may sometimes be necessary to install reinforcement grids, especially if there is a more or less pronounced slope that would cause a road shoulder to slide downwards.
The choice of the most suitable type of reinforcement, and therefore also of the position of the geogrid in the layering, clearly depends on the problems to be faced i.e. reinforcing the surface area to limit the spread of cracks to underlying layers, improving the load-bearing capacity and reducing the stresses transmitted to lower layers, or providing a separation (and anti-contamination) function.
Discover all our solutions here.
Stabilisation
During intervention works, softer soils may be encountered, which may be subject to instability or even collapse in the early stages of intervention works. Even if this should not jeopardise the feasibility of the works, there is still the risk that the minimum legal safety requirements will be compromised.
Also in this case, geosynthetic products are the solution to the problem, as they absorb tensions at least until the intervention work achieves structural stability.
Discover the solutions in the X-Grid line here.
Thursday, 14 October 2021
The photo conjures up a lofty tale: "Autumn arrives and with it, the first rains, days draw in, the temperature starts to drop and, above all… it's harvest time!"
We're in the eastern corner of the Veneto region, the Prosecco hills have outdone themselves once again this year and a steady stream of grape-laden trailers continue to roll past on their way to the wineries. But this year's harvest has had to contend with rather uncertain weather patterns: frosts in late spring, persistent rain interspersed with dry spells, with violent storms and hail over summer.
These conditions certainly don't help the soil, putting it at risk of slips, subsidence and erosion. But if we apply TeMa Geo Solutions' modern technologies and materials designed for this very purpose, we can protect the land from damage and, what's more, do it in a sustainable way.
Not far from here, just a few kilometres from our headquarters, the Prosecco hills fall largely within the UNESCO World Heritage Site, meaning any measures must be strictly reconstructive, designed to protect the status quo and absolutely non-invasive: "gentle" on the environment.
TeMa Geo Solutions has come up with high-performance solutions to control the natural erosion of the soil, reinforce slopes, and drain water with:
Wednesday, 02 September 2020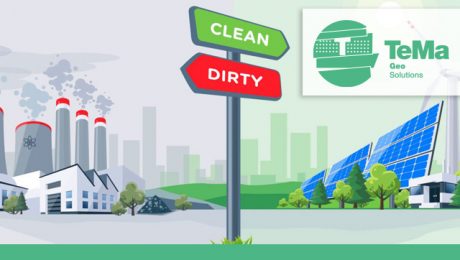 An environmental reappraisal
Over the centuries the relationship between man and the environment has undergone considerable tensions. Rural development and the impetus in building have undoubtedly disrupted certain landscapes, reducing natural spaces to accommodate new urban and agricultural areas. This type of intervention work has led to a crisis in the ecosystem, imposing re-evaluation of the fragile balance between the economy and the environment.
This is the socio-cultural background that has led to global re-assessment aimed at defining programmes and new territorial management formulas. It has been the driving force behind TeMa Geo Solutions, the TeMa business unit dedicated to environmental intervention works. These are aimed at protecting land and offering the opportunity to operate using eco-compatible solutions and products that integrate into the environment without compromising its appearance or safety.
Sustainable development according to TeMa
Nestled at the foot of the hills declared a UNESCO World Heritage Site, the TeMa headquarters could not help but consistently correspond to this desire for sustainability, widespread in this area for some years now. But how has it contributed? By using raw materials responsibly, with 100% natural solutions and intervention procedures with low environmental impact.
Natural products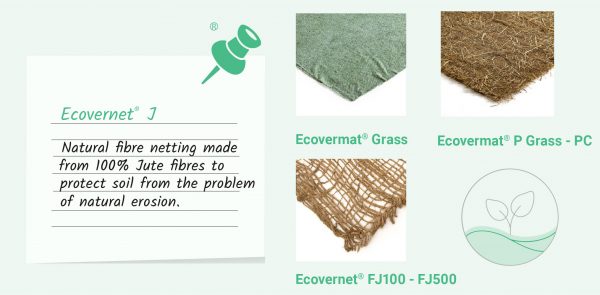 As a concrete example, TeMa addresses the problem of surface erosion of the soil by meteoric rain with Ecovernet® in natural fibres such as jute or Ecovermat® in natural fibres such as straw and coconut – or in biodegradable cellulose fibre. Installing products in this range allows intervention works to be carried out immediately, even in situations with difficult access for on-site vehicles. For such types of intervention works, total integration with the soil is achieved, guaranteeing lasting results over time.
Green intervention works
An interesting new development introduced by our technicians is the use of lightweight materials that feature reduced encumbrance, which not only affects the cost of the work but also speeds up the time required on-site. When building drainage systems, for example, TeMa does not rely on that range of inert materials from quarries that need to be extracted and transported. The company uses drainage geocomposites instead, such as Q-Drain, thus avoiding any waste of energy and CO₂ emissions into the air, thus ensuring quick installation.
These are just a few examples to show the potential that the field of environmental engineering has to offer:
Reduction in costs while maintaining the effectiveness of intervention works
Sustainability of the actions taken
Protection and safeguarding of the soil
Promotion of natural raw materials
To fully understand our philosophy, browse through the new catalogue dedicated to the protection of vineyards, which are the natural and cultural heritage of our lands and an identifying feature of our history. Inside it, you will find products and solutions for responsible and eco-compatible actions.