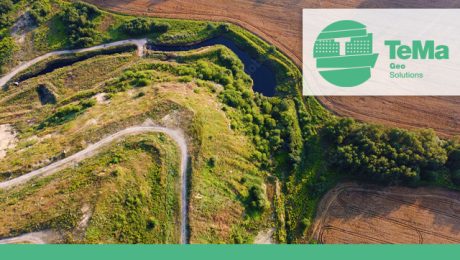 TeMa Geo Solutions' thirty years of experience extends to the field of controlled landfills and contaminated sites, with products specially designed for each function to ensure the site is safe, and with investment-conscious solutions, as well as a focus on ensuring peak performance.
Safe landfills legislation

In Italy, regulation around the controlled disposal of waste dates back as far as 1982, later supplemented by the European directive and updated in 2020 by Italian legislation (D.Lgs no.121).
This legislation covers all aspects of the disposal cycle, from landfill classification to the type of waste, as well as criteria for the construction and operation of the facilities, with a strong environmental focus. In this regard, TeMa has come up with built-up systems and materials that fulfil the required functions and comply with the relevant legislation.
The main functions to make safe a controlled landfill
Making safe a landfill facility entails fulfilling a number of functions:
Barrier
Walls and floor must be isolated to protect groundwater and soil from leachate and biogases resulting from decomposition processes. To ensure sufficient watertightness, legislation requires the use of at least 0.5 m of clay or, drawing on the principle of hydraulic equivalence, synthetic products: sodium bentonite composites like Barrier Bento — which contains up to 5 kg of bentonite/sqm sandwiched between two geotextiles — provide an impermeable layer, acting as a barrier between soil and waste.

Reinforcement
One of the major issues to be addressed when designing landfills, especially the capping system, is stability, which can be achieved by leveraging the compressive strength of the soil combined with the tensile strength of geosynthetics. Reinforcement solutions provided by TeMa range from PET-series geogrids to geomats laminated with geogrids.
Drainage
For liquid and gas capture, legislation calls for the use of 50 cm of aggregate, which nonetheless can come with its own stability issues, especially on steeper slopes. With the use of drainage geocomposites, the relevant built-up system can be pared back, while the number of vehicles required to carry materials can also be reduced. TeMa's offering ranges from studded and micro-studded membranes to monofilaments laminated with nonwovens, and geonets with one or two nonwoven layers.

Erosion control
The top layer of the soil is eroded by the action of the elements — especially by the type of unpredictable and extremely violent weather events we've witnessed in recent years — triggering alarming landslips, which can undermine a site's hydrogeology. To prevent issues of this kind, it's essential to encourage vegetation (which serves as a form of natural erosion control) and protect the soil while it takes root by using natural or synthetic mats from TeMa.