Acoustic well-being is also included in the concept of comfort in hotels.
Vibrations and sound waves disturb guests and there can be many sources of origin: panoramic pools with adjacent rooftop bars, air conditioners, bathroom drains, laundries, lifts, but above all corridors and areas where people with upright suitcases are constantly passing through.
In Italy, for example, speaking of acoustic comfort and governing its implementation is Prime Ministerial Decree of 5/12/97, which establishes the limit values, calculation methods and requirements to be achieved in order to reduce exposure to excessive noise.
How can I soundproof high-frequency spaces from footfall noise?
Carpets and vinyl flooring or similar materials can add to the insulating effect, but the 'bulk' of the work is done by acoustic insulation systems.
Depending on the need to reduce decibels and the available time frame, under-screed or under-tile application can be chosen.
In the first case, the floating screed technique allows structural elements to be separated, preventing the transmission of vibrations. In the second case, instead, dry systems, ideal for less invasive and cost-conscious renovations, that do not require new screeds, allow you to reduce intervention times and install sound insulation directly under the floor. In exceptional cases, they can also be installed over an existing floor by re-laying tiles or other chosen surfaces.
The approach of TeMa Interior Solutions
T-Silence offers excellent acoustic insulation performance and can be applied under any finish, including wood, PVC, ceramic tiles and stone.
For under-tile applications, our range includes T-Silence dB21, the panel consisting of a polymeric inner core bonded on both sides with special fabrics, and T-Silence dB17, the roll consisting of a polymeric sheet bonded on one side to a resilient polypropylene non-woven fabric, and on the other side to a spunbonded fabric.
For under-screed applications, instead, we recommend: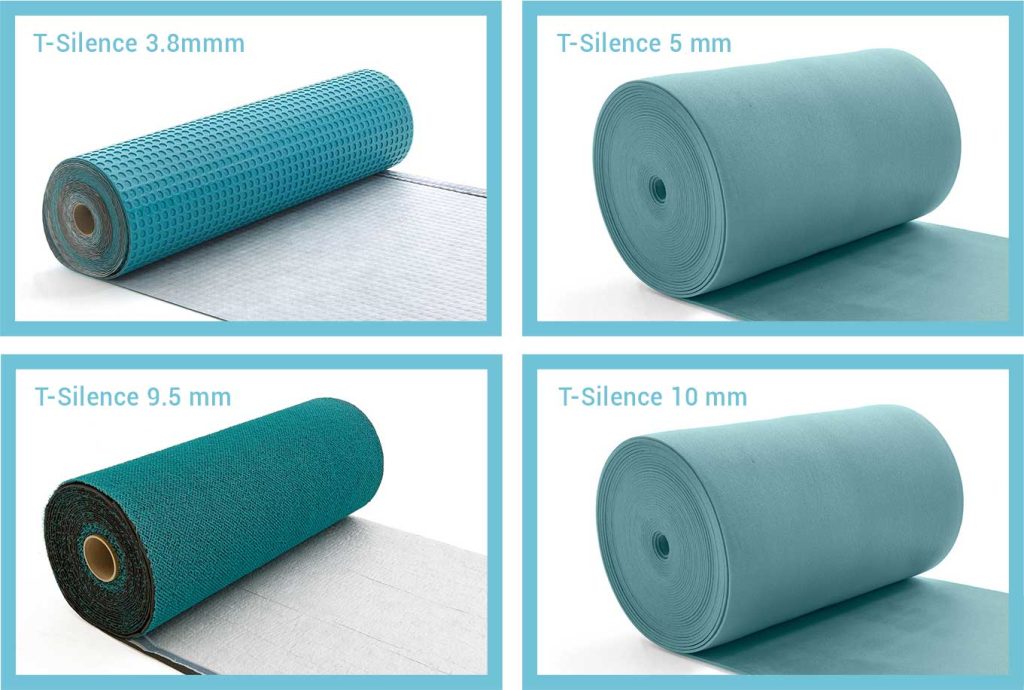 The range is complemented with accessories such as tapes and adhesives for sealing joints.
Wednesday, 26 January 2022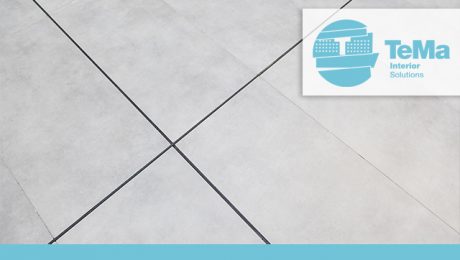 The floor of a room is often a distinctive choice, a calling card: it represents our personal taste and gives character to a room. It isn't as easy to replace as furniture or curtains. We choose it, also aesthetically, to last a long time. But will it really last long?
We spend much time considering its shape, dimensions and the most suitable pattern before deciding. But we don't think about the problems that floors may develop in the long-term.
Let's take a look at some of them.
Cracks and broken tiles
Besides unpredictable water leakage due to a burst pipe that creates rising water, moisture and condensation are among the most common causes of damage to interior floors: if they are excessive, they can create temperature changes that affect the resistance of the floor. Since this situation is very common not only in bathrooms but also in communal areas, it's important to provide suitable ventilation and maintain a constant average temperature, in addition to insulating the building.
In the case of outdoor floors, the problem is more complex. Terraces and balconies are subject to significant temperature changes: the sun and heat, rain and humidity, snow and ice cause materials to expand and contract. The most obvious consequence is the formation of cracks in the screed, which lead to fissures, marks and mould, even in the upper layers. This shortens the life and usability of the floor.
To this must be added the quality of the materials used and the care taken in intervention works: poor quality adhesives would create air bubbles that might raise the floor; joints of unsuitable dimensions would not allow natural movement during temperature changes; incorrect laying of tiles without respecting technical timing would increase this risk.
As a solution, TeMa Interior Solutions proposes No-Crack, the membrane with a dual function:
waterproofing: the plastic nature of the membrane protects the substrate from moisture seepage and harmful substances;
uncoupling: it neutralises tension between the substrate and the tiles, acting as a bridge for any fissures that would create cracks in the tiles.
In addition to these important functions, there is the great capacity to withstand loads, such as benches and outdoor tables. Its structure is classified as Extra-Heavy in the Robinson Wheel Test.
What about soundproofing?
Floors are the surface that separates the floors of a house or block of flats, which is why the noise of a neighbour walking in heels early in the morning or a child jumping at all hours of the day may hinder our well-being.
The ideal solution we propose is to apply panels or rolls to prevent footfall noise. The range includes T-Silence dB 21, T-Silence dB17, T-Silence dB 3.8 mm and T-Silence dB 10 mm, which can be chosen according to personal requirements.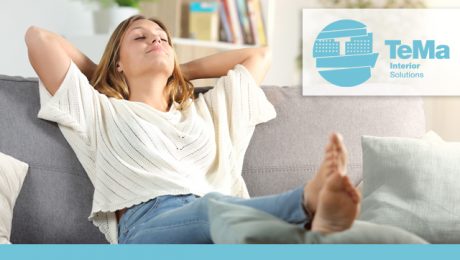 As humans, one of our basic needs is to create a nest that is warm and dry, and protected from bad weather conditions, hoping that a woodpecker will not come along and live above this nest.  Unfortunately, we do not always realise that what affects people's wellbeing is not only the pleasure of the warmth that an isolated environment brings, but also the silence.
Silence has only recently been re-evaluated as a category
Silence has only recently been re-evaluated as a category of wellbeing. Modern culture has allowed it to be acknowledged as a pre-requisite for a peaceful life. The concept of health has extended its boundaries to include other areas such as noise, which, together with other factors such as light and temperature, influences people's good living. The World Health Organization (WHO) defines the concept of health as "a state of complete physical, mental and social wellbeing and not merely the absence of disease or infirmity." Enjoying good sound insulation in the home is therefore not an extra but a necessity. This is why TeMa Interior decided to create T-Silence to reduce footfall noise.
T-Silence, a universally valid option
To make T-Silence a universally valid option, Tema decided to use materials with narrow thicknesses, minimally invasive intervention methods and reduced on-site installation times. In this way, those who are building from scratch or renovating and those who already live in a building and cannot leave it temporarily can make use of the system. Dry applications are used that do not require new screeds and therefore a drying cycle is not necessary. A further advantage not to be overlooked is the option of applying T-Silence without demolishing the existing floor and/or the screed below. This avoids any inconvenience for tenants and ensures quick installation.
So, what is the advantage of soundproofing your home? You can achieve your own wellbeing.
Silence will accompany your daily routine, aiding concentration and avoiding any change in your mindset that normally leads to anxiety, depression and discontent. In the evenings, you will have no problem falling asleep, you will not be woken up in the middle of the night by noisy neighbours and you will allow your brain to re-work the stimuli collected during the day and peacefully fix your memories. Sleep considerably affects everyone's ability to concentrate and promotes growth processes, which is why it should not be underestimated.
This is why a system like T-Silence becomes essential: because it preserves, protects and enhances your wellbeing. Spread the word and tell the neighbours above you and think about those below you.
If you want to learn more and discover the T-Silence application methods, browse the CATALOGUE.