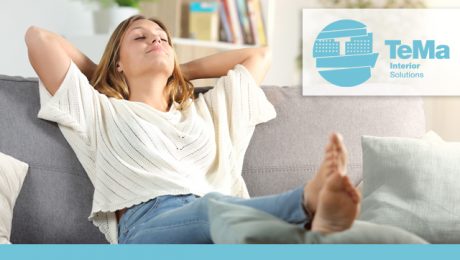 As humans, one of our basic needs is to create a nest that is warm and dry, and protected from bad weather conditions, hoping that a woodpecker will not come along and live above this nest. Unfortunately, we do not always realise that what affects people's wellbeing is not only the pleasure of the warmth that an isolated environment brings, but also the silence.
Silence has only recently been re-evaluated as a category
Silence has only recently been re-evaluated as a category of wellbeing. Modern culture has allowed it to be acknowledged as a pre-requisite for a peaceful life. The concept of health has extended its boundaries to include other areas such as noise, which, together with other factors such as light and temperature, influences people's good living. The World Health Organization (WHO) defines the concept of health as "a state of complete physical, mental and social wellbeing and not merely the absence of disease or infirmity." Enjoying good sound insulation in the home is therefore not an extra but a necessity. This is why TeMa Interior decided to create T-Silence to reduce footfall noise.
T-Silence, a universally valid option
To make T-Silence a universally valid option, Tema decided to use materials with narrow thicknesses, minimally invasive intervention methods and reduced on-site installation times. In this way, those who are building from scratch or renovating and those who already live in a building and cannot leave it temporarily can make use of the system. Dry applications are used that do not require new screeds and therefore a drying cycle is not necessary. A further advantage not to be overlooked is the option of applying T-Silence without demolishing the existing floor and/or the screed below. This avoids any inconvenience for tenants and ensures quick installation.
So, what is the advantage of soundproofing your home? You can achieve your own wellbeing.
Silence will accompany your daily routine, aiding concentration and avoiding any change in your mindset that normally leads to anxiety, depression and discontent. In the evenings, you will have no problem falling asleep, you will not be woken up in the middle of the night by noisy neighbours and you will allow your brain to re-work the stimuli collected during the day and peacefully fix your memories. Sleep considerably affects everyone's ability to concentrate and promotes growth processes, which is why it should not be underestimated.
This is why a system like T-Silence becomes essential: because it preserves, protects and enhances your wellbeing. Spread the word and tell the neighbours above you and think about those below you.
If you want to learn more and discover the T-Silence application methods, browse the CATALOGUE.