Acoustic well-being is also included in the concept of comfort in hotels.
Vibrations and sound waves disturb guests and there can be many sources of origin: panoramic pools with adjacent rooftop bars, air conditioners, bathroom drains, laundries, lifts, but above all corridors and areas where people with upright suitcases are constantly passing through.
In Italy, for example, speaking of acoustic comfort and governing its implementation is Prime Ministerial Decree of 5/12/97, which establishes the limit values, calculation methods and requirements to be achieved in order to reduce exposure to excessive noise.
How can I soundproof high-frequency spaces from footfall noise?
Carpets and vinyl flooring or similar materials can add to the insulating effect, but the 'bulk' of the work is done by acoustic insulation systems.
Depending on the need to reduce decibels and the available time frame, under-screed or under-tile application can be chosen.
In the first case, the floating screed technique allows structural elements to be separated, preventing the transmission of vibrations. In the second case, instead, dry systems, ideal for less invasive and cost-conscious renovations, that do not require new screeds, allow you to reduce intervention times and install sound insulation directly under the floor. In exceptional cases, they can also be installed over an existing floor by re-laying tiles or other chosen surfaces.
The approach of TeMa Interior Solutions
T-Silence offers excellent acoustic insulation performance and can be applied under any finish, including wood, PVC, ceramic tiles and stone.
For under-tile applications, our range includes T-Silence dB21, the panel consisting of a polymeric inner core bonded on both sides with special fabrics, and T-Silence dB17, the roll consisting of a polymeric sheet bonded on one side to a resilient polypropylene non-woven fabric, and on the other side to a spunbonded fabric.
For under-screed applications, instead, we recommend: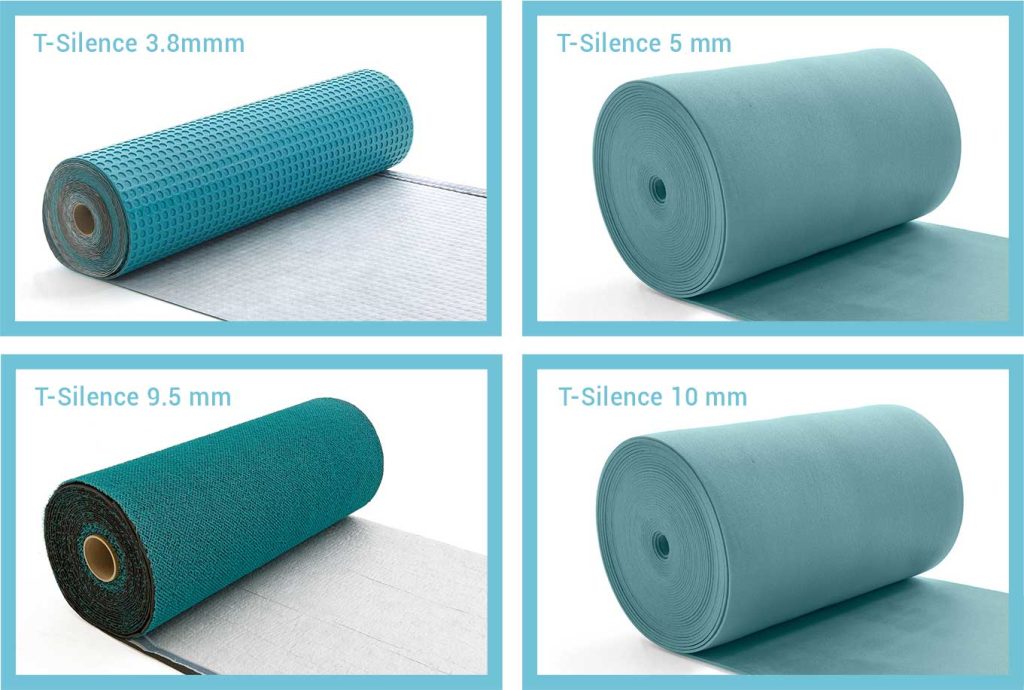 The range is complemented with accessories such as tapes and adhesives for sealing joints.
Large or small, square or rectangular, with or without a panoramic view, the bathroom is always an intimate place that needs to combine functionality with relaxation. It's a room that's used very often, which is why everyone tries to make it a pleasant experience and personalise it according to their own taste.
A new soap dish, a rug to contrast with the floor and a larger mirror are good starting points, but it's strictly in architectural terms that spaces can be customised.
Let's see how.
SOLUTIONS FOR NEW CONSTRUCTION
The first thing to bear in mind is the fact that the bathroom is a place with a high amount of humidity and vapour, therefore any intervention works must provide suitable long-lasting solutions.
The TeMa Interior system allows many intervention works to make your bathroom extremely personal, including creating walls, making the spaces you want and external cladding for the bathtub with a whirlpool and shower, or creating structures for washbasins, shelves, niches or small cabinets.
Water Panel gives you the opportunity to create self-supporting partition walls for a sophisticated look in the bathroom. Its wide range of thicknesses (see data sheet) makes it an extremely adaptable and functional product.
It can be used as cladding for the bathtub and shower, also because it's waterproof and prevents the risk of water seepage, which would cause costly damage, and conceals fixtures, therefore becoming a true furnishing element. In addition, since it's cut to size, it offers the very advantageous option of making the shower or bathtub the required size.
Also for washbasins and walls for the installation of sanitary fixtures, creative solutions can be found with Water Panel: the structure supporting them, whether just one or many more, can be custom-made with a mirror recess and shelves.
Of course, Water Panel can be cladded with your choice of finish: tiles or plaster.
To make it even more visually attractive, you can choose to include niches thereby maximising the use of space. T-Niche is the ideal waterproofed prefabricated product for all your needs.
The above-mentioned products are very light, extremely easy to handle and can also be carried to upper floors without requiring a freight lift.
RENOVATION SOLUTIONS
Workers in the house, bathrooms out of use and dust everywhere: the nightmare can be minimised if you choose to waterproof your shower with TH2 Stop, the membrane that can be applied under tiles with standard cement glue and cladded as desired.
Accessories
To complete the work at critical points, such as corners, specific products can be used such as T-Corner I and T-Corner E, whereas at panel joints, where there are fixtures and drains, T-Bandel can be applied and fixed with T-Fix.
What are the advantages?
All solutions can be customised to the millimetre, on-site and without causing any dust, for quick installation. This allows unprecedented speed of work with the highest performance ever.