Wednesday, 17 November 2021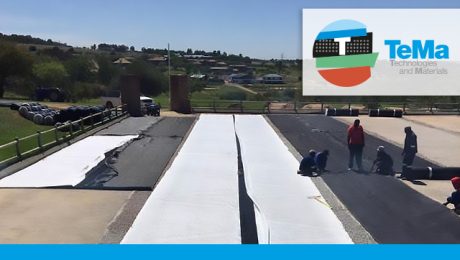 The galloping of horses, the demolishing power of hooves and a high-performance solution. In short, one of our intervention works in Kyalami, Johannesburg, South Africa (2019). This is an equestrian arena where a new moisture management and drainage system had to be designed while ensuring the durability of the work and the well-being of the horses and their hocks.
Horse racing arenas, highly exposed to weather conditions that vary with the seasons and to various training and racing activities that wear out the ground, therefore require constant maintenance. In the past, stone-aggregate layers were used for drainage, which drained rainwater (although not quickly), but had limited resistance to the continuous impact of horse hooves. In order to make the ground more resistant, it was pressed with great force, however, this had a negative effect on the safety of horses. An alternative solution was to preserve the race course as far as possible by reducing its use, i.e. not using it for training but only for competitions.
The solution based on TeMa's decades of experience in constructing synthetic football pitches allows the construction of race courses for competitions and riding schools that use geosynthetic products. These products improve functionality, reduce intervention times and subsequent maintenance costs, also on a large scale (in our case, the surface area to be covered was 3,000 sq.m).
To find out more, click here.
Innovation in every solution
What do our clients and partners expect? For us to be there when they need us! We have therefore set up an extensive sales network in 80 countries. We rely on trained professionals who interact and meet the needs of very different markets.
We have developed three divisions in specialised areas: residential/commercial works, environmental works and indoor living comfort works. Consequently, the training and updating of our collaborators are the mainstays of our competitive advantage, as are the contributions of Universities and Research Institutes in our R&D area. Innovations arise from focusing on and listening to our clients, who primarily demand interesting and beneficial solutions.
In 2023, our company will be 30 years old, and for almost 30 years we have been harmonising our various sectors and offices to find the perfect balance. Along the way, we could not have imagined what has happened in the last 20 months. The Covid pandemic has upset the strategic balance of supply chains. So, in a world that is speeding up again, we believe that our three-division organisational set-up has helped us to truly meet the specific needs of our clients. Recruiting young people has also raised the potential for an unconventional and truly innovative outlook.
We are known as TeMa, the corporation that meets the needs of clients by operating with the precise intention of not only supplying products but also promptly finding systems and solutions that can solve any problem. This might sound like an easy advertising claim were it not for the fact that this statement encompasses other facets of the "solution maker", which we intend to be. It is not only a matter of finding answers to problems but also solutions that are less expensive, have less impact on the environment, are quicker to apply, easier, safer and improve durability. And so on.
Such competitiveness matters to designers, builders, installers and distributors in their civil and geotechnical engineering, landscaping, erosion control, transport and soil retention projects with a low environmental impact. For them, we offer high performance to suit all situations, and we do this because we believe in protecting the environment.
Wednesday, 13 October 2021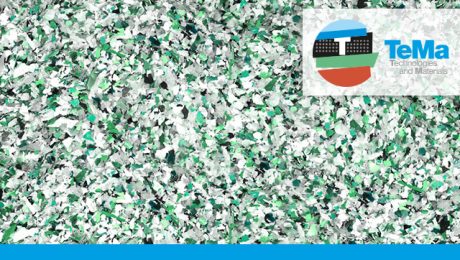 We started out almost 30 years ago and being environmentally responsible has always been part of our philosophy, partly due to the fact that our headquarters are located less than three kilometres from the core zone of the hills recognized as a UNESCO World Heritage Site, and just over 6 km from the edge of the Cansiglio forest.
So protecting the environment was always going to be one of our key commitments, not just in our manufacturing systems, but also in the innovations implemented in the solutions we offer our customers.
Reinforced soil and CO2 savings
Our engineers have redesigned the reinforced soil system, leveraging the very pressure of the soil retained by geogrids, so as to save millions of cubic metres of concrete and aggregate, which would otherwise have to be carried to the site in hundreds of truckloads. Now it takes just one: a considerable saving in terms of CO2 in line with the goal of reducing the carbon footprint, which is the total amount of greenhouse gas emissions generated by a product or a process.
Our geonets and geogrids are made partly from recycled plastic sourced from facilities that are controlled to ensure the resulting plastic meets our standards. A substantial difference in terms of both the collection of material to be recycled and conditioned, and the recycling procedure itself (the material in question is high-density polyethylene, and polypropylene, which comes from bottles, containers, capsules and so on), as well as its preparation, for which – in order to ensure quality – we have set up two plants: EcoTeMa in Russia and Replastica in Romania.
A sustainability journey that TeMa has embarked on and is committed to pursuing further, continuing to invest in technologies and systems with a view to achieving zero emissions by 2050.
Our recycling production process
Material sorting: only materials that meet preset standards in terms of quality and type make it to the next stage. The sorted material is first shredded and then washed, then shredded and washed again. Only then does it qualify as a "raw material" ready to be turned into granules and then extruded and used in TeMa production processes.
It is supplied to our facilities across the Group for them to make into products to be introduced into the market in line with the specifications laid out by designers and in compliance with the legal requirements in the individual countries.

Where does the washing water end up?
The water used for washing is also reused once suitably treated. The portion of water not used is disposed of in compliance with specific government standards on environmental impact.
Renewable energy
Along with plastic recycling and a focus on reducing the amount of carbon dioxide released into the atmosphere, the IWIS Group has installed 3 photovoltaic systems of its own – with rated outputs of 200 kWp, 150 kWp and 100 kWp – as well as a cogenerator, together producing 50% of the energy used in manufacturing.
Being an international company does not mean selling abroad. It means creating or adapting products to the needs of other countries worldwide. Products that are naturally different to ours because the morphology of the land, the climate, the critical issues at stake and therefore people's needs, are different.
In this sense, internationalisation is the result of a corporate approach to research and the technological development of products, materials and processes. Each division of the TeMa Group, namely Interior Solutions, Building Solutions and Geo Solutions, requires technical performance, a skilled workforce and know-how that is always at the cutting edge.
TeMa Group's labs
New products, superior performance and innovative materials are the result of close interaction between our technical/design departments and our testing and quality control labs. Not only dimensional analysis and structural checks but also durability, compression and waterproofing tests are carried out in order to test the products against set quality standards. Here are some examples. For TeMa Interior Solutions, ANSI A118.10 (American National Standard Specifications) are the standard requirements for load-bearing, bonded, waterproof membranes for laying ceramic and natural stone tiles. For TeMa Building Solutions, in addition to the CE mark, membranes bear a Declaration of Performance (DOP) that certifies how they respond to the applications for which they are intended. For TeMa Geo Solutions, the UNI EN ISO 90001:2000 certified quality system ensures that the entire production is at peak performance levels.
TeMa Group partnerships
To be forward-looking and offer innovative products, materials and processes, it is essential for us to establish collaborations and partnerships with research institutes and organisations, also on a global basis. Since 2006, TeMa Technologies and Materials has been a member of IGS, the International Geosynthetics Society, an association committed to developing geosynthetic products from a scientific and engineering perspective. Its main goal is to promote the appropriate use of these materials and their related technology worldwide.
Continuous updating therefore allows us to offer innovative solutions in line with the ever-changing needs of the market. Below you will find some interesting events planned for the year 2021-2022.
EUROGEO7, in Warsaw (Poland), from 19-22 September 2021. With the spotlight on geosynthetic products, many sessions will be offered, from using these materials in new sectors to the role they will play in the circular economy.
12 ICG 2023, in Rome, from 17-21 September 2023. The 12th International Conference on Geosynthetics. The event will focus on interaction between the academic and professional worlds and on the latest technological developments in various sectors for a more resilient planet (Geosynthetics, Leading the Way to a Resilient Planet).