Large or small, square or rectangular, with or without a panoramic view, the bathroom is always an intimate place that needs to combine functionality with relaxation. It's a room that's used very often, which is why everyone tries to make it a pleasant experience and personalise it according to their own taste.
A new soap dish, a rug to contrast with the floor and a larger mirror are good starting points, but it's strictly in architectural terms that spaces can be customised.
Let's see how.
SOLUTIONS FOR NEW CONSTRUCTION
The first thing to bear in mind is the fact that the bathroom is a place with a high amount of humidity and vapour, therefore any intervention works must provide suitable long-lasting solutions.
The TeMa Interior system allows many intervention works to make your bathroom extremely personal, including creating walls, making the spaces you want and external cladding for the bathtub with a whirlpool and shower, or creating structures for washbasins, shelves, niches or small cabinets.
Water Panel gives you the opportunity to create self-supporting partition walls for a sophisticated look in the bathroom. Its wide range of thicknesses (see data sheet) makes it an extremely adaptable and functional product.
It can be used as cladding for the bathtub and shower, also because it's waterproof and prevents the risk of water seepage, which would cause costly damage, and conceals fixtures, therefore becoming a true furnishing element. In addition, since it's cut to size, it offers the very advantageous option of making the shower or bathtub the required size.
Also for washbasins and walls for the installation of sanitary fixtures, creative solutions can be found with Water Panel: the structure supporting them, whether just one or many more, can be custom-made with a mirror recess and shelves.
Of course, Water Panel can be cladded with your choice of finish: tiles or plaster.
To make it even more visually attractive, you can choose to include niches thereby maximising the use of space. T-Niche is the ideal waterproofed prefabricated product for all your needs.
The above-mentioned products are very light, extremely easy to handle and can also be carried to upper floors without requiring a freight lift.
RENOVATION SOLUTIONS
Workers in the house, bathrooms out of use and dust everywhere: the nightmare can be minimised if you choose to waterproof your shower with TH2 Stop, the membrane that can be applied under tiles with standard cement glue and cladded as desired.
Accessories
To complete the work at critical points, such as corners, specific products can be used such as T-Corner I and T-Corner E, whereas at panel joints, where there are fixtures and drains, T-Bandel can be applied and fixed with T-Fix.
What are the advantages?
All solutions can be customised to the millimetre, on-site and without causing any dust, for quick installation. This allows unprecedented speed of work with the highest performance ever.
Don't smile at the obvious: a swimming pool is one of the most humid environments you can find, especially the changing rooms, where there are shower rooms and often inadequate aeration.
Vapour, water drops on the walls and permanently wet floors are the problems we find, but the unknown arises when humidity also penetrates the walls. And that's when invisible damage starts to affect the structure.
Clearly, the most obvious consequence of humidity is the appearance of stains and moulds which, as we all know, are not healthy for people or for the structure, but fortunately they are a clear sign that something is wrong.
When swimming pools are open to the public, and therefore very busy, all designers know that it's important to prevent any signs of deterioration in the toilet and shower area. Basically, this is the area where user's sensitivities are aroused, and so it's important to look for the most suitable materials and finishes, using hardwearing elements capable of resisting over time. In addition, the products used must be completely waterproof and resistant to humid environments.
If not properly considered right from the design stage, there's a real risk of encountering problems with damp, tiles coming off and walls that flake off very quickly.
Moreover, the problem is worsened by the temperature difference between inside and outside during the coldest periods.
The solution from TeMa Interior Solutions
We are specialised in damp-proofing and waterproofing at large construction sites, and now also in interior solutions. We have therefore developed the right product to be vapour- and water-resistant. For example, Water Panel, the XPS (extruded expanded polystyrene) panel bonded with waterproof facers on both sides, to which cement-based glue can be directly applied for laying tiles or other claddings that design now has to offer.
The advantage of this product is that it's ready to use, i.e. quick and easy to assemble while ensuring maximum performance and customisation. Being lightweight is a huge advantage on-site, as well as the fact that it can be cut without creating dust. In addition, it's ideal for a variety of applications, as it's available in a wide range of thicknesses from 6 mm to 50 mm.
Available accessories include:
an adhesive for fixing;
T-Corner I/E for waterproofing corners;
T-Bandel for joining panels;
T-Fix for applying to gaps between panels;
T-Wall Collar for waterproofing the outlet areas of installations.
Wednesday, 26 January 2022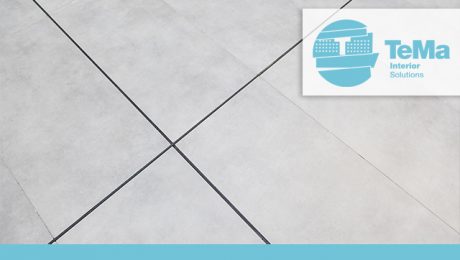 The floor of a room is often a distinctive choice, a calling card: it represents our personal taste and gives character to a room. It isn't as easy to replace as furniture or curtains. We choose it, also aesthetically, to last a long time. But will it really last long?
We spend much time considering its shape, dimensions and the most suitable pattern before deciding. But we don't think about the problems that floors may develop in the long-term.
Let's take a look at some of them.
Cracks and broken tiles
Besides unpredictable water leakage due to a burst pipe that creates rising water, moisture and condensation are among the most common causes of damage to interior floors: if they are excessive, they can create temperature changes that affect the resistance of the floor. Since this situation is very common not only in bathrooms but also in communal areas, it's important to provide suitable ventilation and maintain a constant average temperature, in addition to insulating the building.
In the case of outdoor floors, the problem is more complex. Terraces and balconies are subject to significant temperature changes: the sun and heat, rain and humidity, snow and ice cause materials to expand and contract. The most obvious consequence is the formation of cracks in the screed, which lead to fissures, marks and mould, even in the upper layers. This shortens the life and usability of the floor.
To this must be added the quality of the materials used and the care taken in intervention works: poor quality adhesives would create air bubbles that might raise the floor; joints of unsuitable dimensions would not allow natural movement during temperature changes; incorrect laying of tiles without respecting technical timing would increase this risk.
As a solution, TeMa Interior Solutions proposes No-Crack, the membrane with a dual function:
waterproofing: the plastic nature of the membrane protects the substrate from moisture seepage and harmful substances;
uncoupling: it neutralises tension between the substrate and the tiles, acting as a bridge for any fissures that would create cracks in the tiles.
In addition to these important functions, there is the great capacity to withstand loads, such as benches and outdoor tables. Its structure is classified as Extra-Heavy in the Robinson Wheel Test.
What about soundproofing?
Floors are the surface that separates the floors of a house or block of flats, which is why the noise of a neighbour walking in heels early in the morning or a child jumping at all hours of the day may hinder our well-being.
The ideal solution we propose is to apply panels or rolls to prevent footfall noise. The range includes T-Silence dB 21, T-Silence dB17, T-Silence dB 3.8 mm and T-Silence dB 10 mm, which can be chosen according to personal requirements.