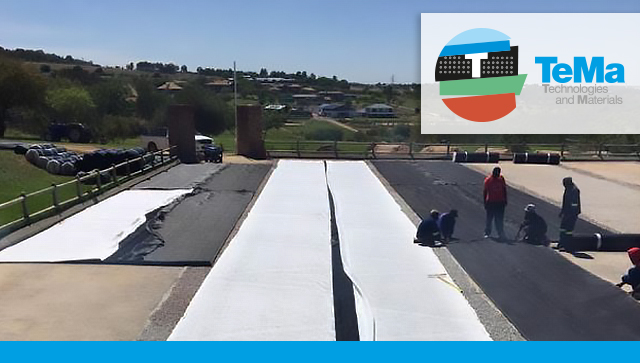 The galloping of horses, the demolishing power of hooves and a high-performance solution. In short, one of our intervention works in Kyalami, Johannesburg, South Africa (2019). This is an equestrian arena where a new moisture management and drainage system had to be designed while ensuring the durability of the work and the well-being of the horses and their hocks.
Horse racing arenas, highly exposed to weather conditions that vary with the seasons and to various training and racing activities that wear out the ground, therefore require constant maintenance. In the past, stone-aggregate layers were used for drainage, which drained rainwater (although not quickly), but had limited resistance to the continuous impact of horse hooves. In order to make the ground more resistant, it was pressed with great force, however, this had a negative effect on the safety of horses. An alternative solution was to preserve the race course as far as possible by reducing its use, i.e. not using it for training but only for competitions.
The solution based on TeMa's decades of experience in constructing synthetic football pitches allows the construction of race courses for competitions and riding schools that use geosynthetic products. These products improve functionality, reduce intervention times and subsequent maintenance costs, also on a large scale (in our case, the surface area to be covered was 3,000 sq.m).
To find out more, click here.
Innovation in every solution
What do our clients and partners expect? For us to be there when they need us! We have therefore set up an extensive sales network in 80 countries. We rely on trained professionals who interact and meet the needs of very different markets.
We have developed three divisions in specialised areas: residential/commercial works, environmental works and indoor living comfort works. Consequently, the training and updating of our collaborators are the mainstays of our competitive advantage, as are the contributions of Universities and Research Institutes in our R&D area. Innovations arise from focusing on and listening to our clients, who primarily demand interesting and beneficial solutions.
In 2023, our company will be 30 years old, and for almost 30 years we have been harmonising our various sectors and offices to find the perfect balance. Along the way, we could not have imagined what has happened in the last 20 months. The Covid pandemic has upset the strategic balance of supply chains. So, in a world that is speeding up again, we believe that our three-division organisational set-up has helped us to truly meet the specific needs of our clients. Recruiting young people has also raised the potential for an unconventional and truly innovative outlook.
We are known as TeMa, the corporation that meets the needs of clients by operating with the precise intention of not only supplying products but also promptly finding systems and solutions that can solve any problem. This might sound like an easy advertising claim were it not for the fact that this statement encompasses other facets of the "solution maker", which we intend to be. It is not only a matter of finding answers to problems but also solutions that are less expensive, have less impact on the environment, are quicker to apply, easier, safer and improve durability. And so on.
Such competitiveness matters to designers, builders, installers and distributors in their civil and geotechnical engineering, landscaping, erosion control, transport and soil retention projects with a low environmental impact. For them, we offer high performance to suit all situations, and we do this because we believe in protecting the environment.