Supporting walls or retaining walls are vertical structures intended to support and retain accumulations of natural or artificial materials and ensure their stability.
In the part in contact with the ground, the supporting structures are naturally covered with a waterproofing membrane, which must be protected from damage during construction operations and during subsequent settlement of the ground. The mechanical protection of the waterproofing is provided by TeMa Building Solutions T-Kone studded membranes, which also act as damp proofing, slowing down the absorption of moisture.
Moreover, when placed with the studs facing inwards, these membranes create a micro-ventilation space that is beneficial in keeping the structure dry.
In some cases, a rainwater collection system is planned around the perimeter of the building. It is necessary to use drainage geocomposites bonded with a geotextile such as T-Mix Drain, which conveys water to the drainage system envisaged in the project.
Supporting walls are used in a wide variety of areas in the building industry, from residential to infrastructural and commercial contexts.
Let's take a look at the application in specific fields.
Residential context
It is essential to protect the underground rooms of homes, whether they are used as garages, cellars or basement rooms, in order to prevent the moisture seepage, which would damage the structure and make the indoor environment unhealthy.
TeMa Building Solutions products meet this need and are efficient in this respect.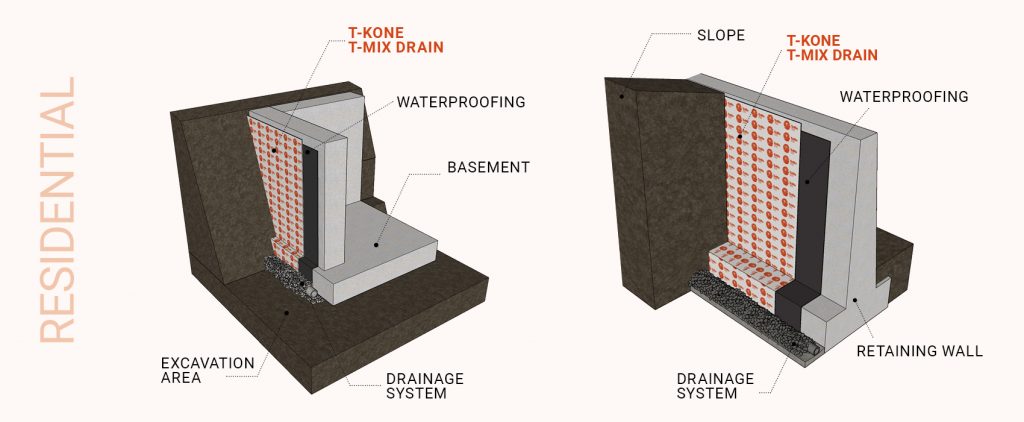 Commercial context
TeMa Building Solutions products are also ideal for heavy loads such as underground car parks or warehouses in commercial buildings.
In such environments, TMD, the studded membrane bonded with LDPE backing foil for the mechanical protection of waterproofing membranes and the T-Mix Draindrainage geocomposite for the drainage function can also be used. In addition, the T-Comp fibreglass mat performs the subdivision function.
Infrastructures
In major infrastructural works, membranes and geocomposites must be able to withstand and resist heavy loads from the ground and hydrostatic thrust. The effectiveness of TeMa Building products is also proven for this type of construction work.
To learn more about the mentioned products, click here.