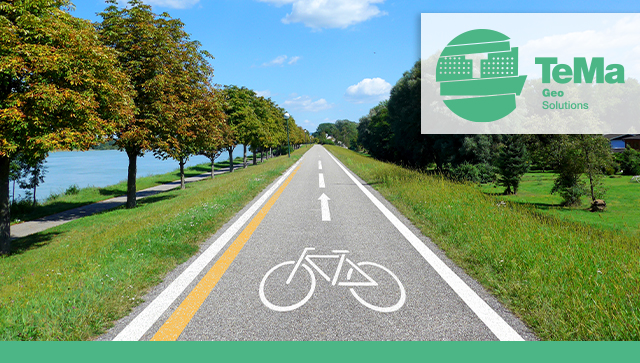 Longer days, milder afternoons, a great desire to spend time outdoors and perhaps get some physical exercise, but also go to work and school or visit a friend… These are all good reasons for using, when available, cycle and pedestrian paths, possibly far from urban traffic.
The advantages of sustainable mobility
We are increasingly talking about environmental sustainability and the physical and psychological benefits of physical exercise:
Less air and noise pollution caused by traffic.
Reduced transport costs.
Greater freedom of movement.
Enhanced green areas in cities.
Better quality of life by doing a bit of sport on a daily basis.
TeMa Geo Solutions for safety and urban benefits
'Unequipped' roads can be hazardous for those who choose to get around by bicycle: for this and environmental reasons, cycle and pedestrian paths are the ideal solution, as they are increasingly becoming part of local government mobility plans.
TeMa Geo Solutions offers all its experience by combining reinforced earth structures and their feature of being green, with cycle and pedestrian paths.
An embankment can be made or a road widened with its sides sloping at 65°/70° using the T-System (consisting of formworks, X-Grid PET geogrids and K-Mat FG Green erosion control mats as facing), thereby making the path safe and allowing a slope to turn green again. Making a slope green again provides a natural erosion control function: to encourage it, TeMa Geo Solutions recommends installing natural or synthetic mats. To make the structure stable, the T-System for reinforced soils adopted by TeMa involves using X-Grid PET geogrids.