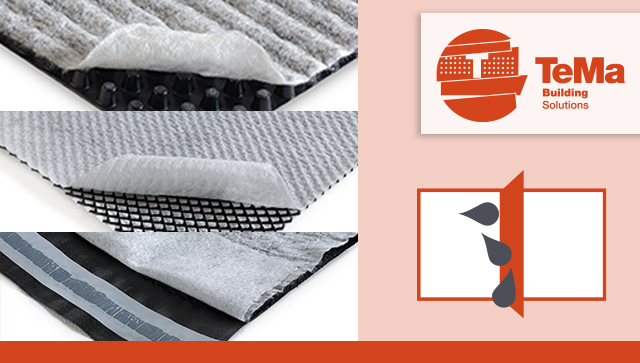 Serving multiple functions, drainage geocomposites are a perfect match for geotechnical applications, while they have a number of distinctive properties making them a popular choice in the building industry, too. TeMa drainage geocomposites are light, easy to handle both by carriers and on site, quick to apply… But let's take a look at the full picture in detail.
What are drainage geocomposites and what different types are there?

Drainage geocomposites are, by definition, permeable geosynthetics comprising at least two elements (one synthetic element and one or more nonwovens).
TeMa offers three main types of drainage products, which all come with the benefit of its considerable experience:
Geonets, made up of a synthetic HDPE mesh comprising two criss-crossed strands sandwiched between two PP nonwovens to which the mesh is thermally bonded, like T-Drain.
Geomembranes like T-Kone and TMD, HDPE studded membranes with different stud heights (8, 10, 20 mm) laminated with a nonwoven.
Monofilaments, made up of an extruded synthetic monofilament core sandwiched between two nonwovens to which the core is thermally bonded, such as T-Mix Drain.
What are their possible applications?
The drainage geocomposites from TeMa Building Solutions cover numerous applications: pitched roofs and ballasted flat roofs, flat green roofs and trafficable flat roofs, standing seam metal roofs and walls, foundations and underground structures, and damp-prone internal walls.
These are all applications that require special attention to drainage as they are exposed to different weather conditions and, in some cases, to groundwater as well: the risk of ponding increases, encouraging damp and, if the waterproofing layer becomes damaged or has too much pressure on it, water seepage and leaking can become an issue.
What purposes do drainage geocomposites serve?
Their main purpose is draining rainwater and groundwater. This is achieved by the action of separation, made possible by the nonwoven, which acts as a filter: the particles that manage to get through it are so extremely small as to have no effect on the proper functioning of the drainage system.
The studded membrane geocomposites also serve the important purpose of providing mechanical protection for waterproofing, which is valuable in roofs and simply essential in underground structures if they are to cope with backfilling and settling of the backfill without being damaged.
Which drainage geocomposite should you choose?
To choose the right product, you need to look at what performance is required. Designers know this well: it depends on the amount and "quality" of water to be drained, and hence on the morphology of the site, whether there are active aquifers, and so on. Loading is another factor to be taken into consideration, in such applications as green roofs, as well as for trafficable roofs and walkable surfaces.