The appearance of damp on walls may be due to various possible causes. The most common include the absence of waterproofing systems in the external part of the wall, the one in contact with the foundation soil, the absence of any efficient mechanical protection that may cause damage to the waterproofing system, or the presence of air saturated with moisture – due to inadequate ventilation – that comes into contact with cold masonry and is, therefore, not thermally insulated.
All this may cause a series of phenomena such as the appearance of whitish areas on walls. These are more frequently known as "efflorescence" and are caused by the build-up of salts, which may lead to the detachment of the surface plaster.
However, walls cannot always be restored from the outside. To solve this problem of an unhealthy environment, TeMa Building recommends T-Kone Plaster, a studded membrane that acts as a cavity.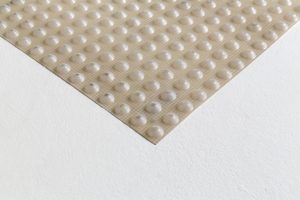 T-Kone Plaster acts from the inside of a house by creating an 8 mm air gap, equal to 5.4 litres/m², between the original wall and the new finish. Thanks to its mesh, this can be coated with a new layer of plaster while its special profile at the base is able to counteract moisture through micro-ventilation.
Rot-proof, non-toxic, resistant to atmospheric agents and fungi, T-Kone Plaster is an effective and permanent solution for restoring walls.
To find out more about our studded membrane, EXPLORE OUR WEBSITE.