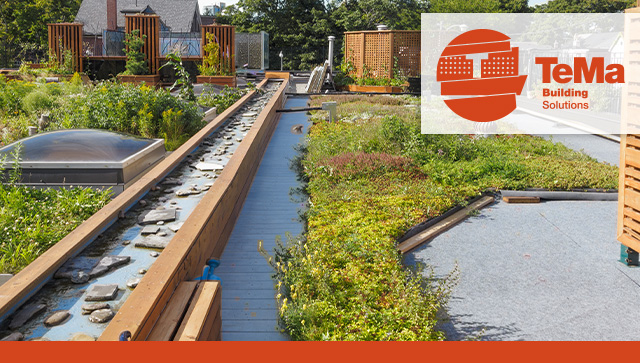 In recent years, "green" has become more and more of a buzzword, encompassing simple and cost-effective solutions that can be adopted by anyone with a roof. We're talking green roofs, which, in addition to bringing undeniable environmental benefits, are the perfect place for relaxing with the family or enjoying summer drinks with friends. The origins of roof gardens date back to ancient times — think Hanging Gardens of Babylon — and, today, are built for extreme reliability, including long service life, with excellent products producing even more advantages.
Let's take a look at the full picture in detail.
The advantages of green areas
For the environment
Plants and grass are natural carbon sinks, absorbing CO2 and releasing oxygen, in addition to filtering particulate matter. In addition, they lessen the urban microclimate effect by lowering temperatures by several degrees centigrade, and reduce electrosmog caused by any electronic device.
They muffle noise and, if designed well, absorb and retain the early sudden downpours associated with significant rain events.
A series of sustainable improvements for urban wellbeing, improving air quality with less smog and particulate matter.
For occupant comfort
Vegetation also acts as natural thermal insulation — which is no small advantage given the energy crises of recent months — and soundproofing in loft bedrooms. Furthermore, it provides the roof with effective protection against UV rays, mechanical stress and daily variations in temperature, thus increasing the average service life of waterproofing.
Lastly, creating a garden on a roof increases the value of the property.
From a technical point of view
A green roof build-up comprises a number of layers, including geosynthetics offering better performance than traditional systems in terms of drainage, mechanical protection of waterproofing, and filtration. The products used are lighter and non-bulky, easy to transport and quick to install.
Functions required of the roof
There are 4 main functions involved: