Acoustic well-being is also included in the concept of comfort in hotels.
Vibrations and sound waves disturb guests and there can be many sources of origin: panoramic pools with adjacent rooftop bars, air conditioners, bathroom drains, laundries, lifts, but above all corridors and areas where people with upright suitcases are constantly passing through.
In Italy, for example, speaking of acoustic comfort and governing its implementation is Prime Ministerial Decree of 5/12/97, which establishes the limit values, calculation methods and requirements to be achieved in order to reduce exposure to excessive noise.
How can I soundproof high-frequency spaces from footfall noise?
Carpets and vinyl flooring or similar materials can add to the insulating effect, but the 'bulk' of the work is done by acoustic insulation systems.
Depending on the need to reduce decibels and the available time frame, under-screed or under-tile application can be chosen.
In the first case, the floating screed technique allows structural elements to be separated, preventing the transmission of vibrations. In the second case, instead, dry systems, ideal for less invasive and cost-conscious renovations, that do not require new screeds, allow you to reduce intervention times and install sound insulation directly under the floor. In exceptional cases, they can also be installed over an existing floor by re-laying tiles or other chosen surfaces.
The approach of TeMa Interior Solutions
T-Silence offers excellent acoustic insulation performance and can be applied under any finish, including wood, PVC, ceramic tiles and stone.
For under-tile applications, our range includes T-Silence dB21, the panel consisting of a polymeric inner core bonded on both sides with special fabrics, and T-Silence dB17, the roll consisting of a polymeric sheet bonded on one side to a resilient polypropylene non-woven fabric, and on the other side to a spunbonded fabric.
For under-screed applications, instead, we recommend: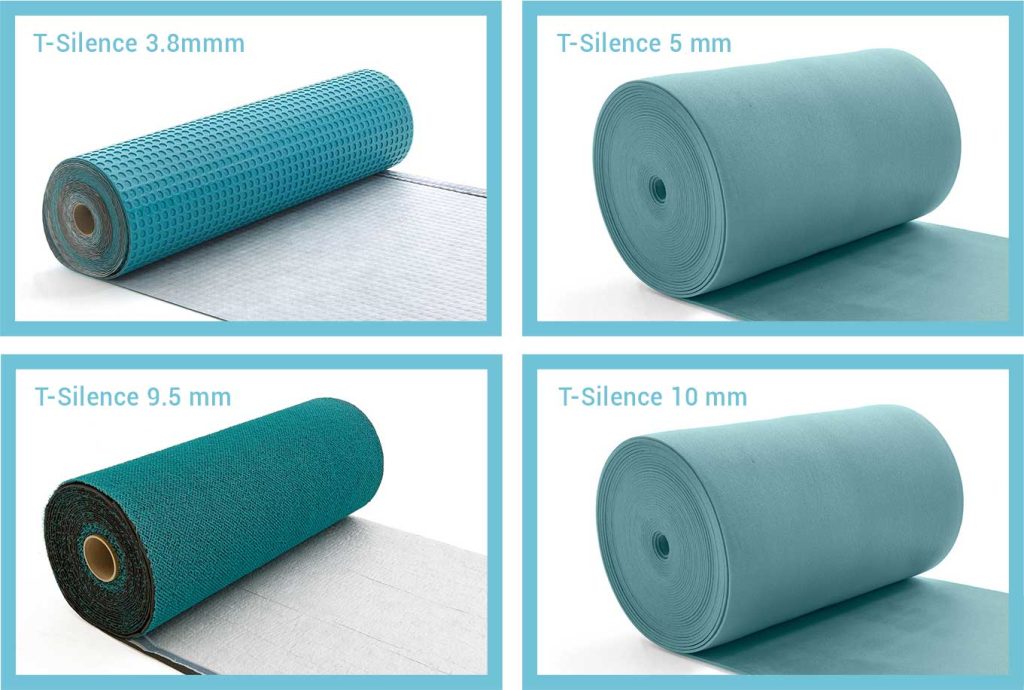 The range is complemented with accessories such as tapes and adhesives for sealing joints.