Tuesday, 16 November 2021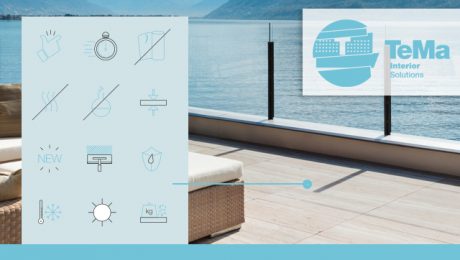 It is a pleasure to make use of a terrace or a balcony. There is no lack of opportunities, whether it is just for relaxing or enjoying the space for dinners and gatherings with friends, with the added bonus of the scenery. Moreover, due to the pandemic, in recent months we have rediscovered these small "islands" and have exploited them as never before.
They are clearly one of the areas in the home most affected by temperature changes: heat and frost, damp, rain and sometimes hail can undermine the integrity of the flooring system. Water seepage and, above all, temperature changes can quickly damage tiled surfaces, and cracks and detachment are the first signs of disintegration. Flooring applied over a screed that has not yet settled will lead to cracks, also in tiles.
We can find even greater pleasure in making use of a terrace or a balcony when we can do it without any worries, confident in the beauty and safety of all its parts. Therefore when building terraces and balconies, some products are used to perform the most important functions. These are:
No-Crack, the anti-crack disconnecting system that neutralises underlying tensions and prevents them from reaching tiles;
T-Bandel, which seals joints between panels, making them waterproof.
TeMa Interior Solutions has devised a high-performance system to guarantee the durability of intervention work and the aesthetic qualities envisaged during the design stage, all in the shortest possible time.
Let's analyse the benefits.
System advantages
First and foremost, the system is easy to apply using lightweight materials that are easy to cut. The time frame is very quick: when renovating, it is often an advantage to have materials and solutions available that do not involve downtime in intervention works.
TeMa Interior Solutions has designed ultra-fast under-tile applications so you do not need to wait for about a month for the cement to harden and you can lay the flooring after a couple of days.
The ceramic tile or stone cladding (synthetic or natural) can be directly applied to the membrane using standard cementitious adhesive.
• All the products used have reduced thicknesses that do not occupy space on terraces and balconies.
• After treatment, the surface is entirely renewed.
• The underlying substrate always remains protected and dry.
• As the system is not affected by temperature changes, but can tolerate them well, it is also a feasible solution during the winter season.
• It is important to avoid prolonged exposure to UV rays.
TeMa places great importance on the environment, therefore no hazardous substances are released into groundwater or the subsoil during installation.
Furthermore, the materials are odourless and do not develop gases that are toxic for indoor or outdoor air, or volatile organic compounds (VOC).
Visit this page to learn more.
The main function of the No-Crack membrane, consisting of an HDPE studded layer with a roughened surface and a spunbonded polypropylene fabric, is to act as a bridge between the screed and the tiles.
The disconnecting function
Temperature fluctuations in open spaces and the constant presence of moisture in closed environments such as bathrooms put a strain on the stability of the screed, which "lives", even after many years, and risks revealing tensions and cracks. As a result, over time fissures may appear in the tiles.
The studded structure of the membrane neutralises tensions below and prevents any cracks from reaching the tiles, thereby keeping them intact.
In other words, No-Crack ensures that the tiles are not in direct contact with the screed and do not move with it.
But that's not all
This membrane also offers other advantages: when used in conjunction with the T-Bandel accessory, it provides a waterproofing function This application is highly recommended in outdoor environments subject to moisture seepage, significant temperature fluctuations and heavy loads (e.g. tables or cupboards on terraces) in order to protect the underlying substrate by keeping it dry and protected at all times.
Easy and speedy intervention works
If the screed has to be redone (in new buildings) or rebuilt following deterioration, intervention works can take a long time. No-Crack reduces the time required, as it can be tiled over after just 48 hours (compared to 28 days for intervention works without using this product), therefore allowing occupants to remain in their homes.
This is because the membrane layer separates the screed from the tiles, giving it plenty of time to stabilise without interrupting intervention works.
In recent months, the terrace has been the favourite place for families to spend a little time outdoors. This is why designers, seeing it gain in popularity, have started to acknowledge it as increasingly important and charming.
Any self-respecting project cannot fail to consider the many activities that these outdoor areas can accommodate, starting from the simplest, such as a popular dinner with friends and family, to the most demanding, such as growing floral plants or creating green areas. If, on the one hand, technology accompanied by the enhancement of the aesthetic aspect of a project have helped to develop these comfort zones, on the other hand, it has become essential to protect them from weather conditions and atmospheric events.
No-Crack: the ideal solution for balconies and terraces
Rain and temperature changes are the number one enemies of terraces. The former causes unsightly stains and mould, whereas the latter create tension between the under-tile screed and tiles that reveal cracks in the floor.
Dual function: disconnecting and waterproofing
This gave rise the idea of developing a membrane such as No-Crack, which combines a disconnecting function with a waterproofing one. Its rough HDPE studded fabric, coupled with a spunbonded polypropylene fabric, neutralises the transmission of tensions under the floor, avoiding the spread and rising of cracks in tiles. But this is not all! If the membrane is sealed with the T-Bandel tape accessory, it performs a waterproofing function by eliminating the risk of water seepage, allowing your terrace to remain unaltered over time.
Quick application, combined with minimal use of building materials, can give you extra space that you can peacefully enjoy, thanks to unique TeMa products.
Be inspired! Visit our website